The folks at
Crowdtap
recently provided me with coupons for the new Healthy Choice
Baked Entrees
. I was able to print out two copies of
this $1 off coupon
. I also shared the coupon with my friends on Twitter and Facebook. Stop and Shop was running a really great sale on the entrees. I was able to get two of them for only $3 after the coupons.
They had two vegetarian options available, so it was an easy choice for me:
Fettuccini Alfredo Bake
Four Cheese Ziti Marinara
The first entree I tried was, the Fettucini Alfredo Bake.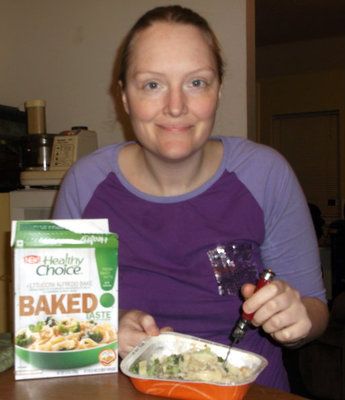 Sadly, I did not fall in love with this entree. It was quite bland tasting. I know it is a diet meal, but it should still have some flavor. I
was
impressed with the broccoli to pasta ratio. This entree had a ton of broccoli in it! The Alfredo sauce was just so BLAH. I do not see myself buying this entree again. Coupon or not.
Next up, I tried the Four Cheese Ziti Marinara.
I enjoyed this entree a lot more! Even though it looked pretty gross (see second pic). The marinara sauce was flavorful and it had just the right amount of cheese.I would purchase this product again, if I had a coupon, and it was on sale.
Overall, I thought the Health Choice Baked Entrees were just okay. I think there regular dinners are much tastier. I was grateful that they had two vegetarian options. I am curious how the meat entrees tasted. Have any of you tried them? How did you like them?
Thanks to Crowdtap and Healthy Choice for giving me this review opportunity!