When I first started this blog, I had no clue things like subscription boxes existed. I sort of just stumbled upon
this
website and I've been intrigued ever since. A couple of boxes caught my eye from the beginning. The
Pawalla
box was the first one that caught my attention.
"
You will receive a monthly selection of all-natural wet foods, treats, supplements, toys, and more for your pet to enjoy.
"
I decided to wait until Cyber Monday to see if there would be any coupon codes available instead of joining right away. I'm always for saving money! I'm VERY glad I did because they had a 50% off code for my first box. I have four cats varying in age from 1 to 17. I decided to order the box for my 8 year old cat, Lilly. I figured the 4 of them could share all the goodies inside.
My box arrived yesterday. My very first subscription box. How exciting! I adore my cats so much that I'd rather order a box for them first. I really wanted to show them all how much I love them and Pawalla helped me do that. The box was a huge success!
The box included a lovely Happy Holidays message. I though that was a very nice touch. The cat and dog dressed up in Santa hats are so cute. Underneath that there was another sheet with a detailed list of all the products inside and a nice letter from the folks at Pawalla.
Ethical Pets
.
I love that this toy is green and made it the USA. I'm all for supporting American businesses! The toy was a big hit with Roxie. As soon as I put it down she ran off with it in her mouth and I haven't seen it since. I'm guessing she "buried" it under my bed.
a lump of coal or a loofah?
Next, I noticed the Fur_Zoff Pet Hair Remover. At first site I thought it was a loofah. I would hate to attempt using a loofah on any of my cats. The Fur_Zoff
Pet Hair Remover
is "made from 90% post-consumer recycled materials, and it never wears out." I haven't used it yet but I'm anxious to try it out. I love that they have something in this box for me to use. I'm not about to eat cat treats even if they do look delicious.
Speaking of cat treats...I discovered a ton of great new cat products and treats in this box!
The biggest hit with my cats so far is, the PureBites Freeze Dried
Shrimp
. The
Primal
Freeze Dried Turkey treats were a bit of a miss with two of my cats. My oldest cat Blackie and my youngest Roxie really like them, but my other two would not touch them. It says on the package they are for dogs and cats. I could see dogs probably enjoying this treat more just because of their size. They were kind of large and difficult for my cats to chew. I have yet to test out the Greenies treats or Life Essentials Chicken Sprinkles. However, I can see all of my cats enjoying these.
I fed the
Nature's Variety
Salmon Formula to my cats this morning. I have to admit this food looks quite tasty. I was worried my cats would not eat it because they haven't liked the higher end wet food I've purchased for them in the past. My worrying turned out to be unnecessary They all ran to the dish when I put it out and, the food was gone in under 5 minutes. It made me feel really good to feed my cats some healthier wet food for a change.
I am officially in love with the Pawalla cat box! I love discovering new products for my cats. I'm on a limited income and cannot always afford to run out and buy new things for them to try. It makes me feel good to spoil my cats a little bit. Before receiving my first box, I was undecided whether I would continue my Pawalla subscription next month at the regular price. Now I've decided that I'm definitely going to keep my subscription going. It made me cats happy and it is really is a great deal price-wise. I haven't totaled the value of everything in this box, but it has got to be over $26.
Two of my cats loved the Pawalla box so much that they take shifts guarding it.
Roxie guarding the Pawalla box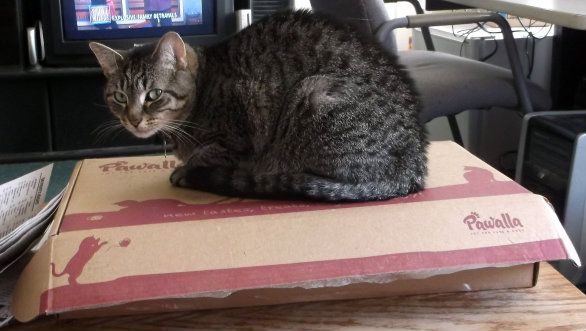 Lilly takes a turn guarding the box


If you're interested in joining Pawalla, sign up
here
. Your pets will thank you! They will also guard the Pawalla box and shoot you deadly looks if you try to touch it. :)
* I really do have three other cats. Roxie is the youngest and usually shows up first to inspect new stuff. My other cats are also a little camera shy.